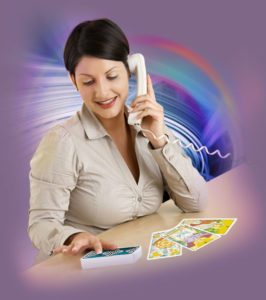 More people are starting to go for psychic phone readings than look for life coaches. They are great in looking at all possibilities without getting too much advice you are not opting for. They are excellent for getting to the heart of matters related to personal growth. It does not matter what religion, belief or creed you follow, psychic readings can give you an unbiased view of a situation, or answers to nagging doubts you may have. With phone readings, you can always remain anonymous.
The basic elements of a fantastic phone reading are a dedicated psychic, a few minutes of mental preparation and an open mind.
Ways to get the most from your psychic phone reading:
Do not establish a phone reading when you are rushed or stressed. Do it in a quiet place and leave enough time in your schedule. Stay calm and focused, it will make your session better. A phone reading during a traumatic time, like the end of a passionate relationship, needs an extra 15 minutes (at least) to get into a proper frame of mind. Take time to calm down before the reading. Practice deep breathing, meditation or anything else that is effective in calming you down.
Searching for a phone psychic takes time. There are many choices, so do not be intimidated. You will find psychics specializing in everything—tarot, crystal and aura readers as well as clairvoyants. Use your intuition to guide you. Is the image or description of the psychic giving you a good feeling? The chances you will have a good phone reading are better with someone if you feel an inner "pull" towards them.
After choosing a phone psychic, take a few minutes to collect your thoughts. Turn off the phone, computer or anything that may be a distraction. Contemplate your questions, to be clear on what you will ask. This will focus energy on what you are trying to learn. It also makes it easier for the psychic to work with you.
After calling your chosen psychic, give them a few moments to connect with your personal energy. Avoid negative feelings and do not attempt to deceive or fool the psychic. Always answer basic questions like your name, star sign or birthday honestly. Provide a brief description of the situation, as well as why you are calling.
Be reasonable! No psychic is always right all of the time. However, a good reading should provide enough detail that relates to your situation. If a phone psychic is unclear, gives too-broad answers or obviously unable to assist, stop the reading immediately. Not every reading establishes a good relationship. You can always ask for someone else.
Be prepared to hear some unpleasant things. Not hearing what you want to hear does not mean the psychic is incorrect. Dependable psychics will tell you everything—good, bad and ugly. Like it or not, it is always better to hear the truth.
Take all phone psychic predictions with a grain of salt. The universe has so many variables—free will (both you and others) and timing, among others. Good psychics will offer you a window of time, such as three to six months. Some are more accurate. There is always the situation when you hear that you will meet your true love in June, but it happens two or three Junes later. Does that mean they were wrong? It's actually a good prediction since it is one of 12 possible months.
When finished with a phone reading, take a few notes of what you heard. Use your notes for the next time you need a reading, to see if this particular phone psychic was accurate enough to have them give you another reading.